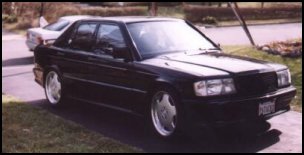 First thoughts.....Nice.....Very nice. The exterior was stripped and restored then painted Dupont Gloss Black w/ 3 coats of wet look clear coat. Check out the Dual tip Remus muffler. 3" exhaust connected to C36 downpipes w/ 2.5" Random Technology High flow Catalytic converter. 18".....I repeat 18" AMG wheels!! Cool AMG logo on trunk lid as well along w/ smoke black tail lights and clear corner lens.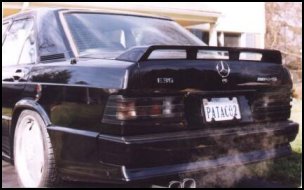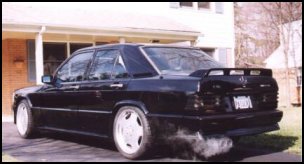 ---
This 3.6L AMG motor was successfully stuffed into Carlos' former 190E 2.3-16V (greymarket)!!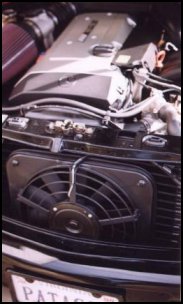 This is that bad @ss 1995 AMG C-36 motor sitting in the engine bay of the 190E. You may need to turn side ways to see it better, but you get the idea. Also, an upgraded GETRAG Tranny and Centerforce clutch to put all that power to the pavement. He uses an Electromotive TEC II computer that makes it possible to control and acheive 350HP and 387 ft. lb. of torque!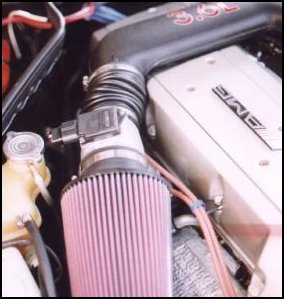 ---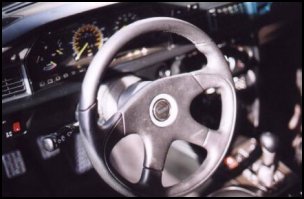 Here we have a difficult to see carbon fiber shift plate and matching Momo short shift knob. The interior was completely redone. Also, SPARCO Foot pedals and Momo Steering wheel. The stuff you can't see is a Digital air/fuel meter, radar/laser protection, Blaupunkt CD player, Subwoofer, Polk speakers, and many more creature comforts.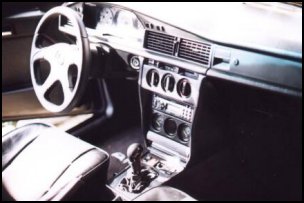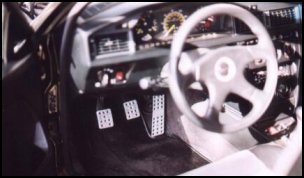 This job was custom done to match Mr. Piad's requirements and design. It took about 18 months and $48,000 later he's pumping around 350 ponies, doing 0-60 in 4.8 sec. and so far his top speed is 160mph. Future plans are Mosselman Twin Turbocharger. At 12psi. wastegate release he estimates around 500HP!!!! May I suggest a set of wings? ;-) If you have any more q's about Carlos' ride you may e-mail him at cpiad@gis.net.