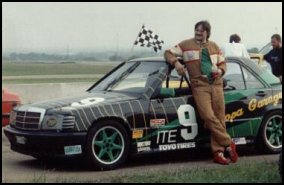 This 16V is doing what Mercedes Benz built this car to do......Race!! It belongs to Alain Vanhollebeke who has been an independent Mercedes Benz technician for 18 years. He races in the Midwest division SCCA for 3 years and is currently running in the "improved touring class" which doesn't allow much engine modifications, but permits a lot of Suspension Mods. These consist of 400E brakes at all four corners with a custom made "forced air" cooling system, and power slot fron rotors. He uses Hawk "blue" racing brake pads, ATE super blue fluid and stainless steel hoses. He also has custom Bilstein shocks and a 500E front swaybar. He made his own camber plates and uses a strut brace. All of the "stock" suspension bushings have been replaced with heim joints or aluminum, including the rear subframe mounts and all the rear links. He has an 8 gallon fuel cell, 10lb. fire system, TRW seatbelt restraint, full cage, etc. He won the mid-am ITE championship and the I.T.-Tour championships in 1997 and was voted regional driver of the year for being the most successful midwest region driver the same year.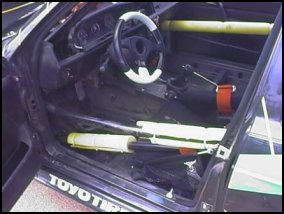 Yes, you guessed it, this is the interior of Alain's race car, this car was given a diet which consists of stripping down to the bare essentials to lose the over weight pounds that our 16V's have. Note: the widened accelerator pedal for easier heel-toe downshifting and a fire system pull-handle just to the right of the steering wheel. The seat is a cobra silverstone.




This is the front camber plate and the strutbar, you can see the fire system nozzle mounted just in front of the camber plate.







| | |
| --- | --- |
| These are the front brakes. You can see that the brake rotors are slotted. | 8 gallon fuel cell, no spare tire here. |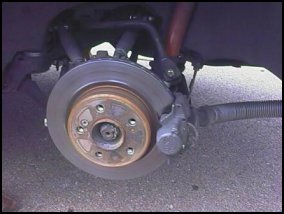 This is a 400E rear vented rotor and the cusom air duct on the caliper made from exhaust tubing. The duct is fed air through a flexible hose by a 500cfm electric tubular shaped fan on each side. You can also see the aluminum subframe mount and adjustable suspension links.
Here he is in action. If you have any more questions here is Alain's email address: Alainv@networksplus.net
190E 2.6L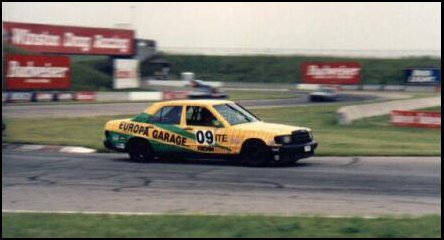 This Yellow 2.6L is Alain's Dad's that is set up similarly to his, but with stiffer front springs, smaller brakes and wheels, and a little different suspension set up.