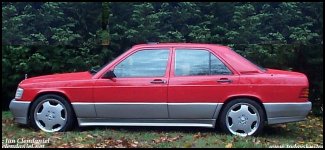 Here is Ian's 1986 190E 2.3-8V. It is highly hooked up. Lets start with the suspension. Eibach Pro kit springs drop the car to give that nice aggressive look and the Bilstein Sport Valved shocks go perfect with the springs. This wasn't enough however, so he chose AMG antiswaybars to stiffen up the car even more, for those hard corners. His wheel set up is 17X7.5" AMG monoblock replicas w/ 215/45ZR17 Sumitomo HTR-Z2's.
Ian needed more horsepower for his car, so he decided to add an Ansa cat-back exhaust with center resonator removed along with a K&N Filtercharger with modified airbox and for even more power he chose a Schrick camshaft.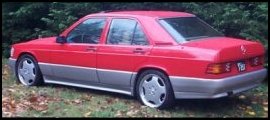 For his Stereo he uses an aftermarket, Head- Alpine CD player, The Front speakers are Polk DB 4" separates (tweeters on A-piller). The Rear speakers are Polk DB 6x9" and 2 10" Kicker SoloBarics mounted in custom package shelf Amplification- PPI 4x50 and 2x400
What makes up the cosmetics part of his car are a number of things. Including Shaved Badges, Euroheadlights along with Clear turnsignals. To give his car an even more added effect, it is outfitted with Erebuni Ground Effects. The front fenders have been flared to eliminate all possible chances of rubbing. The top portion of the car is a factory Red w/ AMG silver guts. Ian says "the pics don't do the finish justice at all!!!"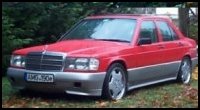 His future plans are more power... a possible engine swap (4.3L anyone?) Dump the automatic tranny...never liked it, never will. PIAA projector driving lights...they're in the box, in the trunk ;) Tinted windows. An AMG 2.3-16 rear wing. 500E brakes with SS braided lines...bought the parts, too lazy to install (next weekend, I promise!) "Wonder if he's installed em yet? ;-)" Also, 6" mid-bass Polks in door panels.
That's about it...when I do the brakes I'll take plenty of pictures and give another tech item for the site.
You can contact Ian at ian@clendaniel.net.