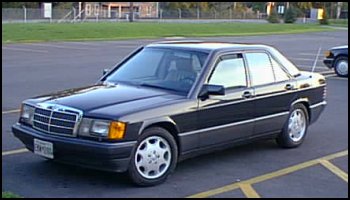 OK, here we have another hybrid done by Mike Skees. This 190E has undergone some serious replacements in order for it to be called a 1991 190E 3.2-24V! One cool thing, its for sale.
According to Mike this car is very fast and fun with perfect reliability. With only 28K ON NEW BORED AND STROKED 3.2 L 300SL/CE 24-VALVE ENG. The car yields an impressive 250 HP! To let the 3.2L breathe, he decided to go with a K&N filter. To handle that power a 300E 5-speed manual transmission is used. Whats also impressive is that he has a *Custom Built* Limited Slip Differential with 3:46 Ratio.
Bilstein sport struts and lowered sport spring package. Sport front and rear sway bars stiffen up the ride. 300E brakes along with Kevlar Braided Brake hoses are used to stop the car.
The car sits nicely on new factory 8-hole wheels. The car is a perfect sleeper.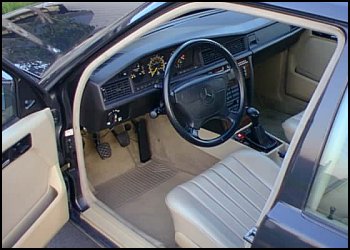 It has all factory options. ABS, Air bag, leather, all power.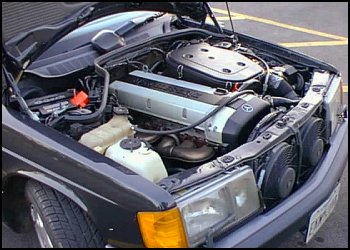 This car was entered in the Mercedes Benz club event TRI-O-RAMMA and took first place in class in all three events. Autocross, ¼ mile acceleration runs and the 2-mile track event. I was tied w/ an AMG C43 in the ¼ mile run, Fastest Time of the Day went to a 500E. In the 2 mile track event, I took the FTD overall which was 3.8 sec. better than the fastest time posted by a C43. I have driven this car for the past 28,000 miles and have never had a single problem. It is very fast, reliable And even blows cold a/c. I have been racing 190e 2.3-16's for the past 3 years in the SCCA. I am very familiar w/ all the latest mods and have learned a few tricks over the years. I have chosen the best mods for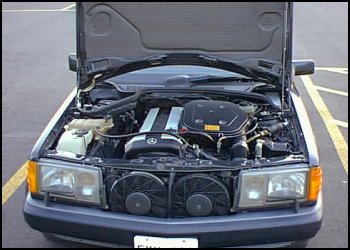 The street w/o sacrificing daily comforts. This car looks 100 % stock on the exterior w/ the exception of the Wheels. I do not like to attract too much attn. from you know who. It is a complete sleeper of which I totally intended. Just imagine what a turbo charger would do for this machine! To build this yourself would Require a minimum of 25,000.00 and many dedicated hours. I am willing to sacrifice this at a low cost of 15,000.00. I know there is a converted 190E 2.3-16 w/ an AMG C36 eng. Which cost well over 45k to build. You can have a similar car for less than 1/3 of the cost. This car makes a stock 190E 2.3 -16 valve look embarrassingly slow!! For more info. On this particular car, contact Mike Skees at Home phone 301-788-0368.