AMG (Canada) 190E W201
Contact AMG Canada via the links page if you want to make a purchase.

Aero Dynamics (84-88 need updates)
Front Spoiler w/light						1299.00
Side Skirt							  81.00
Rear Skirt							1067.00
Rear Spoiler							 587.00

Rims
15x7   ET25 1pc. (need fender widening)			 	 540.00
15x7   ET35 1pc.						 486.00
15x7   ET37 Soft Spoke						 498.00
16x7.5 ET31 3pc.						1292.00
16x7.5 ET37 1pc.						 637.00
17x7.5 ET35 Soft Spoke						 667.00
17x8.5 ET30 Soft Spoke (rear only)				 737.00
17x7.5 ET37							 690.00
17x8.5 ET30 (rear only)						 701.00

Suspension Set
4 cylinder							3155.15
6 cylinder							3512.08

Spring Kit
4 cylinder 2.3							 653.00
4 cylinder 2.3 16V						 653.00
6 cylinder							 653.00

Exhaust
1.8, 2.0, 2.3 -12/90						1624.35

Stainless Steel Rear Muffler	
2.0, 2.3 01/91+, 2.6 09/88+					1624.35

Stainless Steel Rear Muffler
Aluminized System -08/84 without cat.				2893.00
Aluminized System 2.3 09/84+ without cat.			2880.57
Aluminized System 2.3 09/84+ w/original cat.			2029.86
Aluminized System 2.3 09/84+ w/metal cat.			3751.26
Aluminized System 2.3-16V -08/88 without cat.			3128.50
Aluminized System 2.3-16V -08/88 w/original cat.		1956.11
Aluminized System 2.5-16V 09/88+ w/metal cat.			4950.63
Aluminized System 2.6, 3.2 09/86+ w/metal cat.			5091.24
Aluminized System 2.6 09/86+ w/original cat.			2237.47
Aluminized System 2.6 -09/89 without cat.			3128.50

Transmission
Valve body unit							2500.00

Differential	(16V only)
Ring & Pinion 3.46
Ring & Pinion 3.92

Steering Wheel
Leather (made by Momo) 380mm					 669.30
Steering Hub for Momo						 207.90
AMG Sport							 649.00
Impact Absorber							  44.00

Emblem
AMG new style							  85.80
AMG							 	  76.40

Kamei Front Spoiler and 8-hole Wheels
I have a Kamei front spoiler for a 1984-1993 Mercedes 190E. The spoiler was only on car for 2 weeks! I sold the car and took the spoiler off. Makes your Mercedes stand out from the rest!! If interested email me at Badboymustangz@aol.com.. I also have an 8 hole Mercedes wheels with comp ta tires. If interested, let me know.
Michelin Tires
Have two Michelin 235-40XR17 for sale. Tires have never hit the ground. Asking $50.OO a piece plus shipping. Serious inquiries please contact me at rhommey@ipa.net.
'85 2.3-16V
Smoke silver. Black leather power, heated, seats. New timing chain and tensioner. New pistons and rings 2nd oversized. Polished cams and new valves and valve springs. 17 inch brabus wheels, euro head lights, a/c, burns cold engine ready for a turbo or supercharger. A steal deal at: 7995.00. Ask for mike: home 770-437-0799 office 404-467-6724.
1989 190E 2.6L
All options, including Clarion CD player, new front brakes, new waterpump. Asking $7,900 obo. Very dependable car!! I've been offered a 1995 C220 for $13,000, that is why i'm selling this car. Contact Jon at: (219)287-5792 or JKAEN68252@aol.com
17" Wheels with Tires / Intrax Lowering Springs
Want to sell 17 inch 5 spoke rims with Nitto Extreme tires 215-40-17 price: $1000
Also: Fresh out the box. Never touched 1 3/4 inch drop. Intrax lowering spings. Have no use for them. Practically giving away. Price:$100
E-mail if interested.
1986 Mercedes Benz 190E 2.3-16V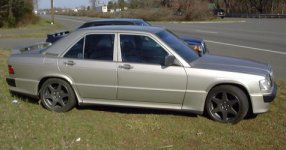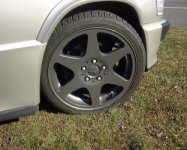 1986 Mercedes Benz 190e 2.3-16, U.S. Model. Smoke silver with black leather, Alpine CD player w/ JL Audio speakers, 5 speed with limited slip differential, 17" Mercedes Benz Evolution II wheels and 15" 3-piece BBS wheels with new blizzak MZ-01's, Excellent condition with no accidents or paint work ever, Extensive, recent upgrades: New clutch and transmission rebuild. New European headlights, New shocks, springs, brakes, custom exhaust, valve job, AC system, Fuel injection system, water pump, and timing chain with updated tensioner, new tires. All synthetic fluids. Perfectly maintained with all records from new. Must Sell. (908) 722-7100 ext. 254 or (215) 353-9133 or pskalc@hotmail.com. Geoff Atkinson, NJ.
15"x7" BBS RS 3-Piece Wheels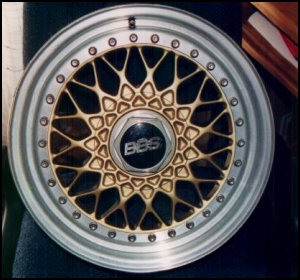 I have a set of four 7x15 in size BBS RS 3-piece wheels, golden with silver lips, offset 35mm. All come with BBS center cap. No bending but with minor scrapes on the edge. It was the lightest wheels in 80's. Ask for $500 plus shipping. Send e-mail to AkiChui1@aol.com.
1984-1993 AMG 6-Piece Ground Effects Kit
1984-1993 AMG 6-Piece ground effects kit. Brand new, still in the box. Comes with front bumper, rear bumper, side skirts, door panels. No reasonable offers refused. Also, have a competition stereo trunk kit and door panels for a 190. All custom made, hand made, One of a kind. If interested email me. BADBOYMUSTANGZ@AOL.COM.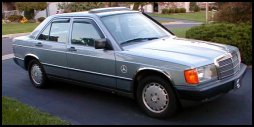 I am selling my 1984 5-speed 190e 2.3. It has 183,000 miles and is Silver-blue. Upgrades include- K&N filter, Alarm, Custom foglights. The car has two new Dunlop d60-a2 tires. I'm asking 3600$ for it. Email petey16v@hotmail.com.
1991 190E 2.3
'91 190 2.3 silver/navy, good Michelins, all books and records, cold air,carphone,less than 69k,1st owner deceased elder,I bought it in Mar 99 from estate with 61k, I am only selling to buy '63 fintail 230c. There are some sunspots on the roof and trunk lid but the car is excellent other than that. I would like $7500 but will here offers. call 706-313-1313 or email at rojogo@hotmail.com. Joe.
16"x8" Mercedes Factory Alloy Wheels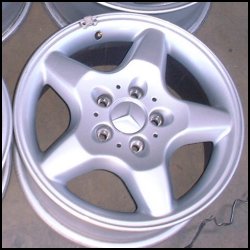 For Sale: Set of four 16 X 8" Mercedes factory alloy wheels in perfect condition from a 1999 ML Series SUV. They are the standard MB 5 X 112mm bolt pattern, with a 50mm offset. They will fit many Mercedes cars, but require spacers to work on a 190E. $500 plus actual UPS costs from the Detroit area. Contact Brian at: Shelbyracers@megsinet.net.
ITEMS FOR SALE
(4) AMG Monoblock II (Soft Edge) Wheels 17 X 7.5. Used for a year, still in good shape. Asking $1000.00 + shipping (No Tires).
Eibach Sport Line Springs for a 190E 2.6. New/In Box, asking $ 249.00 + shipping.
KONI Adjustable Shocks and Struts for 190E 2.6. New/In Box, asking $350.00 + shipping.
Contact amg_hammer@hotmail.com.
16V Parts
complete hydraulic rear suspension, h&r springs brand new. must sell, also factory 16v wheels, and front brakes, best offer, ken g m3man67@hotmail.com.
Parts for Sale
17"x7.5" Evo II Titanium color wheels w/ Pirelli P7000 tires (215/40/17) Wheels are straight and clean, but one has a small scratch from tire mounting, barely visible with tire in place. Two tires are very good and two are not so good. $950.
European headlights for 190e w/ one set clear blinkers and one set amber blinkers. Excellent condition with 80/100 watt bulbs. $375.
Momo Competition Steering wheel with 190e adapter. As new condition $200.
Very High performance Suspension for 190e 2.3-16 unused and in boxes, including Bilstein Sport front shocks for 16V, Bilstein Sport Rear shocks for 500e, 500e Front sway bar w/ brackets and bushings, Eibach Rear sway bar w/ bushings, Block off plate for pump and lower spring pads. Just add Eibach 16v springs and go. $700.
Please e-mail at pskalc@hotmail.com
Headlights
Complete 1994 W124 US headlight assemblies - no scratches or pits - best offer.
'87 190E 2.3-16
5 sp. black/black. 48,000 original miles. Garaged winters. The last 16 valve delivered to the U.S. (highest VIN). Date of manuafacture, 8/87. One of the finest of its kind. "Best of Show" award winner. Other than K&N filter, strictly stock. Less than 500 mi on new ignition wires, hoses. brakes, tires. Extras include car cover, extra set of starburst wheels with new G-force tires, 5 pt. harness, Car for the serious collector, or someone who wants the finest available. $16,500. Dick Gortz (216) 765-1901. Email rgortz@gortz.com
Eibach Prokit for 190 2.3
Eibach Prokit Springs for 190E 2.3. new/in box. have been installed but then taken off the next day. BEST OFFER + shipping. HURRY! email: Snowguy07@aol.com.
4-16" BBS Cross Spoke wheels
Please see http://www.wheelsone.com/ and go to "wheels" and choose "BBS" and see RX. The wheel have almost new 205/50zr tires. Reason for selling: I'm putting the original wheels on my 190E 16v. Thanks. Please e-mail if interested.